Rescue & Re-Home
Rescue Stories: Meet Schatzi
Schatzi came to join our home as our first foster with the Bernese Mountain Dog Club of Oregon in February 2022. We had high hopes of being her forever home. Schatzi came when her Mama went on hospice. Unfortunately, another female came into care at that time who was not very fond of her and she needed to find urgent foster care while she awaited vet care before placement. After hearing her story we knew we had to try foster.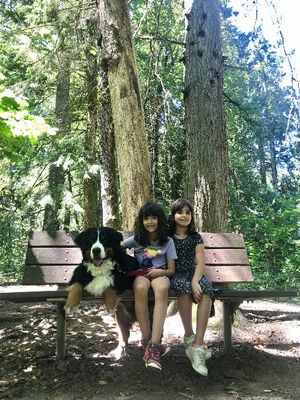 Before she came into care she lived a leash free, human food eating life on a dairy farm for over 6 years and had to be medicated to get in a car, attend the public or be seen for grooming or vet care. We were challenged to get her very short obese scared body into the car, but with the help of a ramp & great advice from a smart behaviorist, we started getting her into the car daily. We also worked daily on walking on a leash. She walked twice a day through the neighborhood to get our daughters to school and back. She quickly became the talk of the neighborhood. She came to love her leash and the car as she quickly learned of the potential for fun adventures and the best treats. She even learned to tolerate dog food! She did have a few bumps in the road learning how to share the household with the attention of our 10 year old Bernese mountain dog, Gracie. In the end Schatzi showed her talent for compassion as she alerted us to multiple new masses on Gracie and comforted her when she lost the ability to walk. Schatzi was an unexpected blessing as she helped us say goodbye to Gracie and we are forever in debt to her.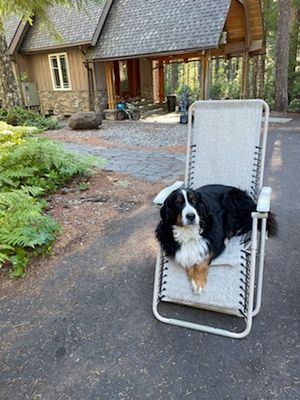 Schatzi has changed and bloomed as an only child with a 4 to 1 ratio of attention. She is thriving with all the constant hugs and attention. We have found her amazing talent of sitting atop of anything very entertaining and even took this talent on the road recently. On our recent RV trip she sat atop mountains, hammocks, small chairs, large chairs, swing chairs, tables, child kayaks, large rocks, large tree stumps, benches…you name it - she will sit on it!  We are celebrating her 7 year birthday this month and hope to spend as many years as possible locking eyes with that sweet face and laughing at the things she makes into her throne!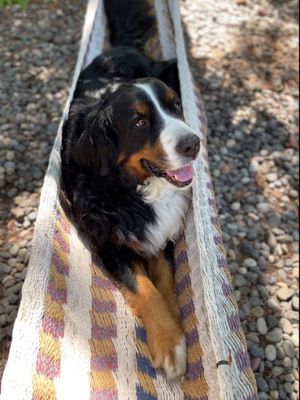 Photo credit: Chrristina Cocioppo
No Bernese Mountain Dog left behind
We are very serious about Bernese Mountain Dog Rescue. Berners are a wonderful breed who repay our love and attention with a lifetime of hard work, devotion and trust. We believe it's important for Bernese Mountain Dogs live with people who are committed to providing their dogs with the best possible life. Owning a Bernese Mountain Dog is a special privilege. With this privilege comes the responsibility to ensure our dogs live in circumstances that allow them to develop the best qualities of this noble breed. Therefore, our club actively sponsors rescue activities. 
​RE-HOMING/SURRENDER:  We are ready and willing to take in purebred Bernese Mountain Dogs and find them wonderful new homes.  If you know of a Berner who needs rescue, or if you are an owner who needs to rehome their dog, please contact the Rescue Coordinator.
ADOPTION:  If you are interested in adopting a rescue Berner, you will need to fill out the Adoption application, as we do not adopt out ANY dogs without an application on file.  Our process is to initially evaluate the dog in one of our foster homes, and once we decide what the perfect home would be for that specific dog, we will then go through applications to see who comes closest to that perfect home. 
FOSTERING:  If you are interested in helping the Rescue Committee with fostering a Berner while we evaluate them, fill out the Foster Application which will help us get a better idea of what type of dog we might consider placing with you. It's a big plus if you have special training with behavioral problems or special health needs."
Rescue FAQ 
What exactly is dog rescue? 
A rescue dog is a purebred Bernese Mountain Dog that has been placed in a shelter, is a stray, has been abandoned or no longer can be cared for by the owner of record or caretaker. A re-homed dog is a purebred Bernese Mountain Dog that can no longer remain with its owner of record or caretaker and will be placed directly into a foster or permanent home. Placement is the process through which a dog is placed in a new home. 
Bernese Mountain Dogs are such beautiful dogs! Why would one need to be rescued? 
As Bernese Mountain Dogs become more popular, more and more people are drawn to this wonderful breed. Unhappily, many of these people do not understand the challenges of living with a large breed dog until it becomes too much for them to handle. When the reality of owning a 100-pound dog becomes overwhelming many owners recognize that they cannot meet the responsibility. This is when the Bernese Mountain Dog Club of Oregon steps in. 
Should I expect any special challenges with a rescued Berner? 
The short answer is YES. Plan to spend a lot of time helping your new Berner adjust to a new home and family. Some rescue dogs have temperament issues such as shyness that may require extra efforts to overcome. Others may have health problems that require special attention. Our rescue coordinator will work with you to ensure that you understand your dog's special needs. The BMDCO is committed to helping you meet any challenges you may face with your re-homed Berner. Your hard work will be repaid with a wonderful companion. 
How can I qualify as a rescue home? 
Educate yourself on the breed, proper dog training, housing and care. Join our club to meet Berner families. Contact our Rescue Coordinator or any of the Board Members. Fill out our adoption form to help us with placement. 
I'm not ready to provide a permanent home for a rescued Bernese Mountain Dog, yet I'd like to help. What can I do? 
Providing a forever home is not for everyone but you can help out in other ways. Assistance is always appreciated for short term foster care, transportation, financial assistance for medical care, placement evaluation, mentoring, training, temperament testing, and education. Contact our rescue coordinator for more information. 
Why should I consider providing a home to a rescued Berner? 
While adopting a rescued Bernese Mountain Dog is not for everyone for those who can step up to the challenge it is a wonderful way to enjoy the breed and help out dogs with special needs. 
I've heard that Berners are very loyal to their families. Can an adult Berner adapt to a new home? 
Berners can do very well in new homes with consistent and loving care. It can take from three months to a year for your rescued Berner to make the change. Once the transition is complete, you will have a loyal friend and companion for life. 
For more information about rescue please read the Bernese Mountain Dog Club of America Info Series on Rescue.